My husband and I have continued our annual date nights a few nights a week depending on what our schedule looks like but I haven't shared the recipes in awhile. Now that the kids are back to school I do have more time on my hands so when a fall like evening approached over the weekend my taste buds craved a shepherd's pie. Normally I wouldn't go the potato route, for carb reasons but I've discovered over the last few months that sweet potatoes are a good carb. So I introduce you to this Easy Sweet Potato Shepherd's Pie.
I kept it healthy by limiting the said sweet potatoes and I also buy super lean beef. Usually 90% lean) I know, I know, it lacks in flavor, but I've figured tons of ways to add some of the flavor back in. I also had some broccoli so I steamed that as well and added it into the frozen veggies. A great short cut is steaming the sweet potatoes but you can easily throw them in the oven or the grill and mash them after as well. So my flavor secrets for the beef: Garlic, seasoned diced tomatoes, and red pepper baby!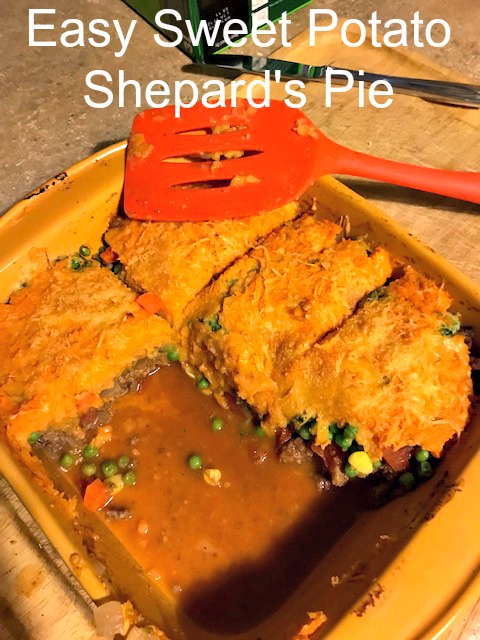 Easy Sweet Potato Shepherd's Pie
This Easy Sweet Potato Shepherd's Pie is whipped up ahead of time for a busy weeknight or enjoyed for a nice Sunday Dinner.
Ingredients
1 lb. of lean ground beef (I use 90-97% lean)
3 small sweet potatoes
2 tbsp. of minced garlic
2 cups of frozen vegetable medley
⅓ cup of low fat milk
1 small yellow onion, diced
1 green pepper
¼ cup of shredded cheddar cheese
1 14 oz can of diced tomatoes (Italian style)
Salt
Pepper
Red Pepper flakes
1-2 tbsp of olive oil
Instructions
Preheat oven to 350 degrees.
Peel and cut the sweet potatoes into 1 in cubes. Put them in a microwavable steamer and steam them for 4-6 minutes. Season with salt and pepper, slowly add the milk mashing with a hand masher (or hand mixer)
While the potatoes are steaming add the onion to a skillet with the oil and saute for a few minutes. Add the garlic. Saute for a few more minutes. Add green better and stir for a few more minutes. Add the beef and continue to stir while the beef cooks through. Season with salt, pepper and sprinkle with red pepper flakes. Once the beef is cooked and the onions and peppers are cooked your ready to layer your casserole dish.
Steam the veggies for a few minutes and set aside.
Layer an 8x8 casserole dish with the beef first, topped with vegetables, spread the sweet potato mixture on top of the veggies.
Using a fork scroll through the potato making track marks. Sprinkle with cheddar cheese and set it under the broiler set on low until it's browned, approx. 5 minutes.
Bake for 30 minutes. Let it sit for 5 minutes, cut it into 6 pieces and serve.
Growing up
Shephard's Pie
was a staple in our house. My mom used to make it different by adding a layer of plain spaghetti in between the potato and corn layers. I know it sounds strange but back when I was ten, I wasn't counting carbs and watching my figure! How have you changed up Shephard's Pie? Another great one you can try is a this
Easy Vegetable Shepard's Pie
, this one is stacked with veggies and super easy to whip together using frozen veggies and instant potatoes! Enjoy friends!